What is an Agile Coach Camp?
Well, we probably could start writing a book about it. And maybe you even take this as an invitation to do so 😉
History of Agile Coach Camp
With an online format, we will probably reach more people than ever before. And many might not have been at an agile coach camp before, wondering what this is. If you wanna look into its history, have a look at the mother page of all coach camps (https://agilecoachcamp.org). There you will see a lot of events, which have been taken place on-site. And unfortunately some of them since 2020 are still being challenged with the covid-19 situation. But also a very nice note on history: the format is now in its 13th year! And many of us have been attending and co-creating many agile coach camps already in the past.
And … we already did this online version of the camp last year in 2020. And it was great!
The Idea
So, finally, what is it? In short, an agile coach camp builds upon the open space format. It is a non-profit event for the community of change agents (and you might add any role here), hosted by the community and co-created by it throughout the event.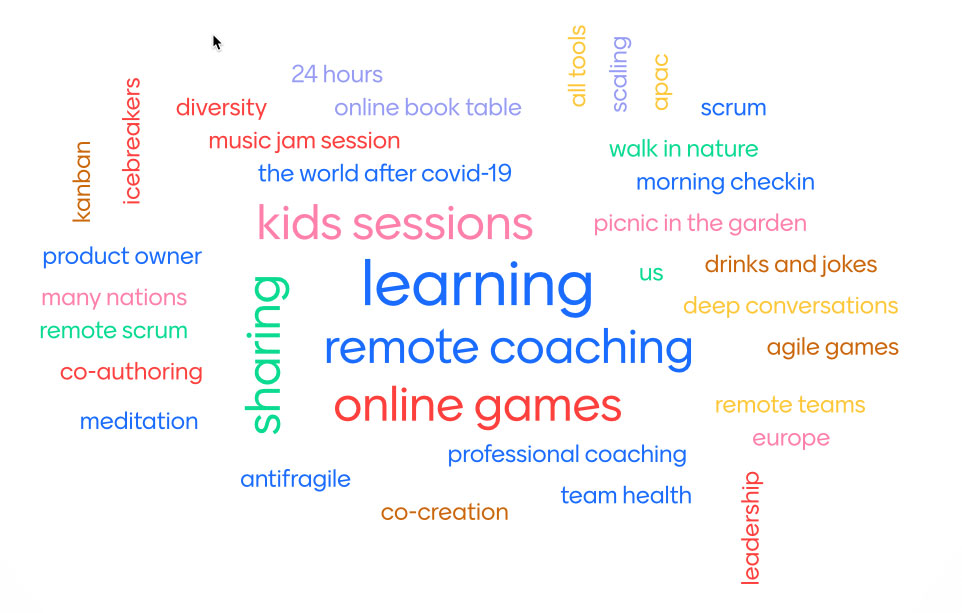 How it is run
Co-Creation means, apart from a couple of possible preparations provided by hosts, the main part is created and run by all participants. We are creating the agenda together – this can be any sort of offered session topics, but also people just asking to explore a certain one. In any case it is learning, sharing, caring, networking and tons of fun! And it is a lot of surprise!
From there sessions are brought by providers and seekers, not limited to any topic across the agile ways of working (or whatever else seems important to participants). Whether this is something about methods, practices, transformation, leadership, coaching, sharing of interesting or challenging experiences, facilitation techniques, games … etc etc you name it.
An Online Agile Coach Camp?
So how is an online one different then? Of course, we can't be all in the same physical place. On the other side we will certainly not only share a virtual space, but also grow a global field of inspiration & engagement without any limitation together.
What will it be exactly in April?
We have tons of ideas and possibilities, but we are still collecting, preparing, and also inviting YOU – should you be interested – to co-create upfront and co-facilitate during the event.
We will keep posting and communicating more and more ideas over the next days and weeks.
Until then, all the best, stay safe & healthy!
for the organizer team
Mike Leber